Wisdom of the Oracle Message:
"Breathe":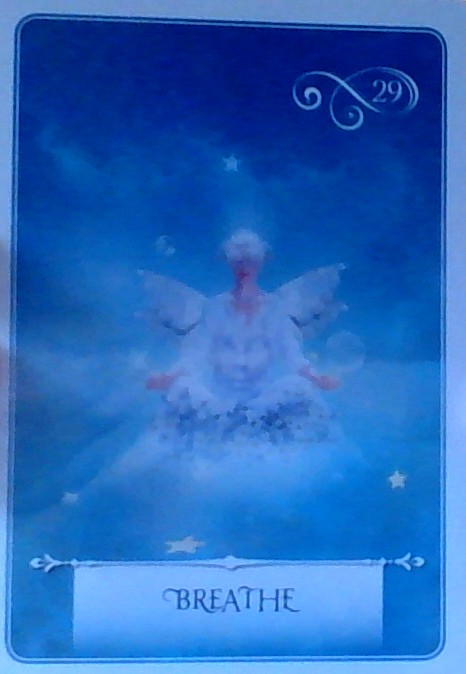 "EssentialMeaning: Patience;Waiting; going slowly; wellness; meditation; trust."
The OraclesMessage: Patience in all things is called for right now. What do you need to do when you're in a rush? Slow down, of course. Meditate, and trust. Breathe, and repeat. Humans cannot exist without drawing breath. Now is the time to allow the life-giving element of air to nourish your being, and your very essence. Stop to smell the roses, breathe in the sunlight, and release the darkness- and miracles will appear.
"Relationship message: Don't be in too much of a hurry right now. The heart needs time to open. Take a breath, and let nature take its course. Release constriction and anxiety, for there is no need for tension. Savor the moment, and the waiting won't prove difficult. Your heart knows what the ego often resists learning. Patience pays off in deep and meaningful ways."
Spirit Message card:
"Prosperity Message": You have worked long and hard, your dreams are coming to fruition, and you want to hurry things along. You are the slow one moving languidly yet still progressing right now, in a rhythm dictated by your authentic nature, the essence of your dream, and the will of the universe. Slow and steady wins this race. You will indeed win if you relax, stay the course, trust your intuition, and breathe."\
-Colette Baron-Reid, psychic medium
Find Your Center: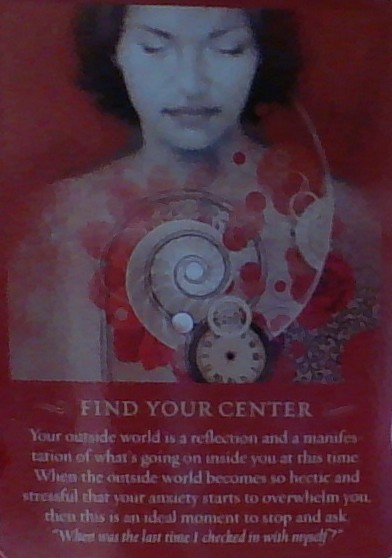 "Your outside world is a reflection and a manifestation of what's going on inside you at this time. When the outside world becomes so hectic and stressful that your anxiety starts to overwhelm you, then this is an ideal moment to stop and ask, "When was the last time I checked in with myself?" "
"This card is aimed right at you this time for many reasons.It's telling you that you need to slow down and find the center of your being right now. We understand on a physical level that it's easy to get caught up in the materialistic world, but we urge you to step back from your outside world so that you can reconnect with your spiritual self long enough to pause, reflect, and heal. "
"When life gets chaotic and you need to pull back from the stresses and strains of daily life , use this card to help you slow the pace down, go within, and reconnect with your spiritual self. Simply close your eyes; put your hands over your heart; breathe deeply; and say to yourself, "Find your center." By doing so you'll connect with your soul, where you'll discover that you're able to let go and gently relax into the present, releasing all those anxieties. When your inside world is at peace, it will be reflected and enjoyed in your outside world with a balanced body, mind, and soul." -John Holland, psychic medium
"The Power of Surrender" message for the week ahead: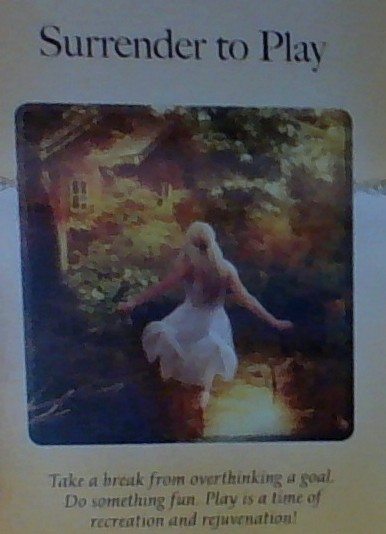 Take a break from overthinking a goal. Do something fun. Play is a time of recreation and rejuventation!Holland, psychic medium